In March 2020, the start of the first UK lockdown Nordic Eye Sales Accelerator (NESA) signed a distribution agreement with UVD Robots who at that time had a flat and poor performing sales environment in the UK.
Nordic Eye has invested €6 million into the Danish robotics company Blue Ocean Robotics. Blue Ocean Robotics develop and produce professional service robots including the UVD Robot, GoBe Robots and PTR Robots. Nordic Eye owns 15.4% of the company.
We launched NESA Robotics www.NESARobotics.com and dedicated a team to introducing UVD Robots & GoBe robots into various industries predominantly in the UK including Aviation, Construction, Education and Transport. With sales exceeding $1m in the first 6 months from a standing start!
The UVD Robots were designed to significantly reduce hospital acquired infections, a significant problem in the healthcare sector, using ultraviolet light, the UVD Robot autonomously, disinfects and kills 99.99% of all viruses and bacteria on surfaces and in the air. In light of the pandemic, NESA quickly sold into Frimley and Wexham NHS trusts.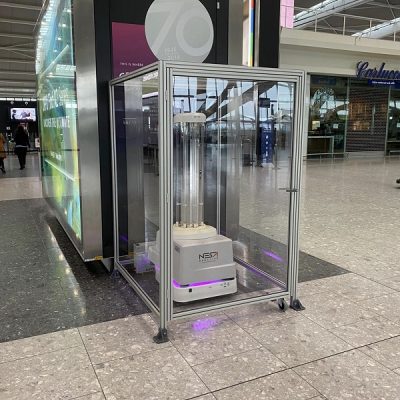 NESA then took UVD outside of its comfort zone by introducing the robots to the commercial sector, by leveraging existing contacts, we strategically secured sales with some of the world's industry leading businesses: 
London Heathrow Airport amongst one of our first success stories, a strategic decision led by the CEO primarily for PR reasons and was the first UVD sale of its kind! The UVD Robots featured in their "Fly Safe" campaign to provide confidence to the passengers and staff when visiting the airport. The success was covered by press worldwide and NESA CEO, Heath Williams appeared in multiple TV interviews with BBC, BBC Click, ITV and Sky News. In May 2021, Heathrow was also awarded a 4-Star COVID-19 Airport Safety Rating by Skytrax with the robot playing a huge role in that. Since then, NESA Robotics have deployed robots into all terminals.
Generali Insurance

made a strategic decision to purchase a number of UVD Robots using a COVID-19 emergency fund established by the group who then gifted the Robots to various hospitals. 

The UVD Robot at

London St Pancras

was featured in over 220 news outlets worldwide within the first week, including prime time TV appearances. The Robots are being used in the station offices, waiting rooms & washrooms not only to kill Covid but various other bacteria and viruses such as Hepatitis. 

UK Power Networks

are now frequently disinfecting their HQ in London, 46 Sub Power Stations along with vans and shared equipment. The robots are not just killing Covid but Weil's disease and Legionnaires disease.

Top five and Magic Circle law firm,

Linklaters

recently deployed UVD Robots as part of their plans to encourage their staff to return to the office
During the second UK National Lockdown when schools were still open, NESA introduced the GoBe Robots. The telepresence robot was brought in to support teachers remotely, eliminating the need for Supply Teachers which found an ROI of the telepresence Robot in just 7 weeks. 
By introducing various different purchase and rental options we continue to expand our client base with Facility Management companies, helping businesses across the UK get 'back to business' after the third National lockdown.
If you would like to discuss how we can support your business, please click here.